Positive Feedback & Happy Vibes!
Our guests can't wait to share their positive reviews and talk about their great Gold Coast holidays while staying at Boulevard North.
Please note all photographs and videos show a range of apartments and views on offer at Boulevard North. As all apartments are privately owned, décor and interiors vary. Apartments are on different floors and in different positions.
"Can't Beat the Location"
"Beautiful location, great amenities, peaceful and clean."
Patricia, Australia July 2021
"Family holiday.  We loved the location and the facilities. Despite it being the middle of winter we swam at the beach every day, swum in the resorts heated pool, relaxed in the spa and steamed in the sauna. We also loved the grass tennis court and the fact you could hire racquets and balls for free and there was no need to book the court. The staff are also incredibly friendly and accommodating."
Anna, Australia July 2021
"Absolutely the best location, bus stop around the corner, tram 3 blocks up, mall 5 mins walk, Pac Fair close by and ………. beachfront. Foyer smells AMAZING. Staff are very accommodating. Rooms have everything you need. 100% recommend the ocean view, what a way to greet the day!!!!! Thank you!!!"
Tarsh K, Australia July 2021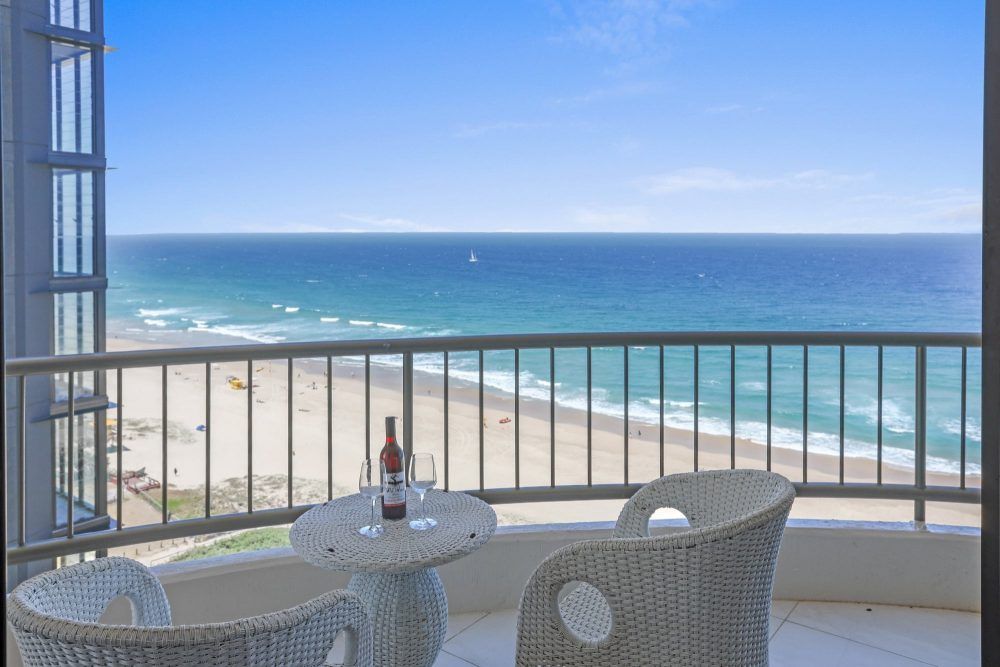 "We'll be Back"
"This property is perfectly situated. It is across the road from the beach, close to shops, clubs and far enough away from the highway, so no traffic noise. Staff were extremely friendly and knowledgeable about the area. We haven't negative comments about the property."
Joanne, Australia June 2021
"Really liked the friendly staff who were more than helpful. The position and price were excellent and the apatment was bright, clean, comfortable and had great views."
Philip Australia June 2021
"Amazing views from 16th floor. Will definitely stay here again. Quiet spot yet close to everything. Great location. Spacious unit and good kitchen. Beautiful views and lovely staff."
Diana Australia June 2021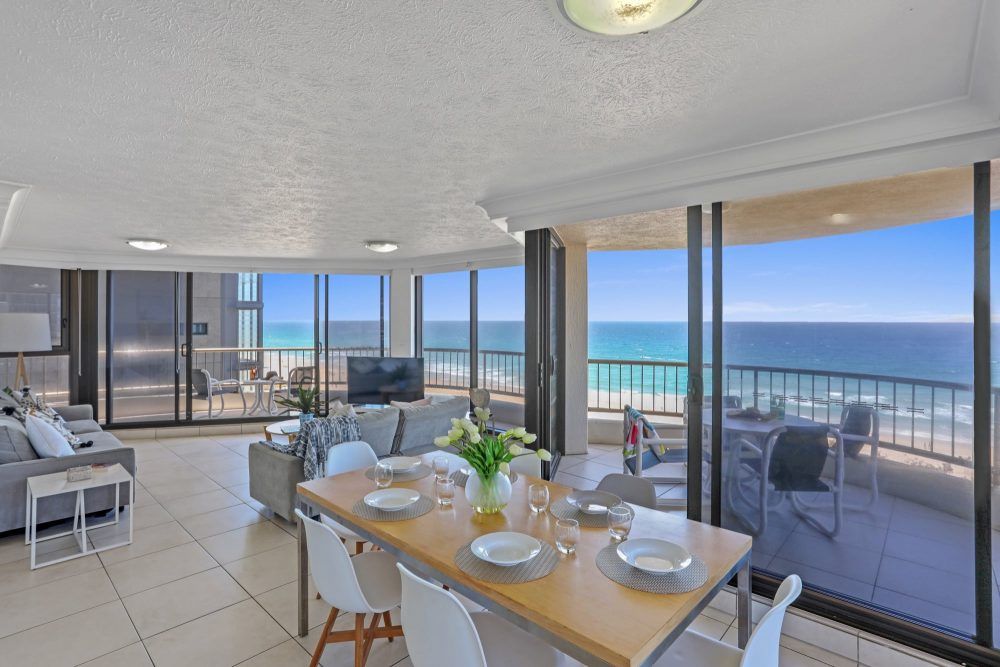 "The Perfect Getaway"
"Wonderful service. Excellent styled & renovated apartment. Plenty of additional blankets if we needed them. Heater warmed whole apartment. Great views of the ocean even at the back of the building. Close to everything in walking distance."
Kirsty Australia June 2021
"The location of this hotel is fabulous away from the mall so you cant hear anything but a very easy walk to get to the mall along the boardwalk. The beach is right across the road you can watch the waves rolling in so beautiful. The two bedroom apartment was lovely and clean and very spacious, it had everything you need for an extended or short stay. The bed very comfy and extra blankets for those chilly nights. The pool and spa right there behind a big fence with beautiful gardens. A lovely grassed area and tennis court. We would definitely recommend this hotel."
Pru Australia June 2021
"The apartment was exceptional. All you could need. A tad bit far to walk to the supermarket and eateries but that's the only criticism- could not fault anything else! Would love to stay there again, love Broadbeach! The coffee shops on cnr Amrick Ave and old Burleigh road are great!"
Tracey and Russell, New Zealand June 2021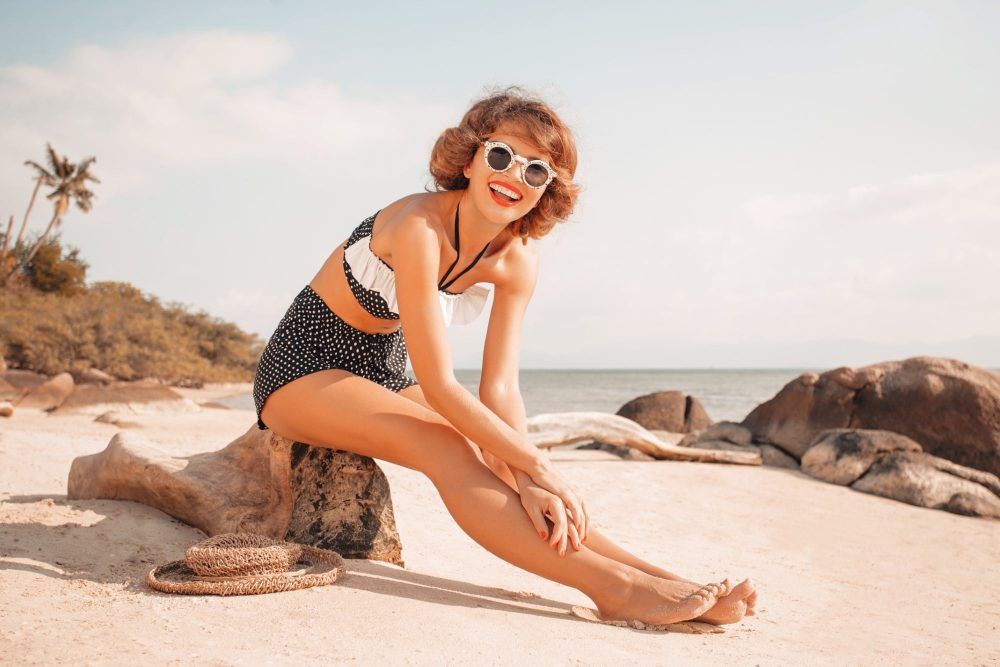 "Excellent Place to Stay"
"Pleasant stay, short walking distance from the beach. Fantastic views and location, very close to the beach and main streets. Friendly staff and good building facilities."
Slyvain Australia May 2021
"Great location, pool, spa, sauna and tennis court. Room was spacious and comfortable. Very accommodating and friendly staff."
Bernachette, Australia May 2021
"Great place to stay, close to everything Great views of the beach from the 3 balconies around the unit, which was clean and well set up. As well as so close to the Broadbeach Mall so everything was in easy walking distance, no car needed."
Leanne Australia May 2021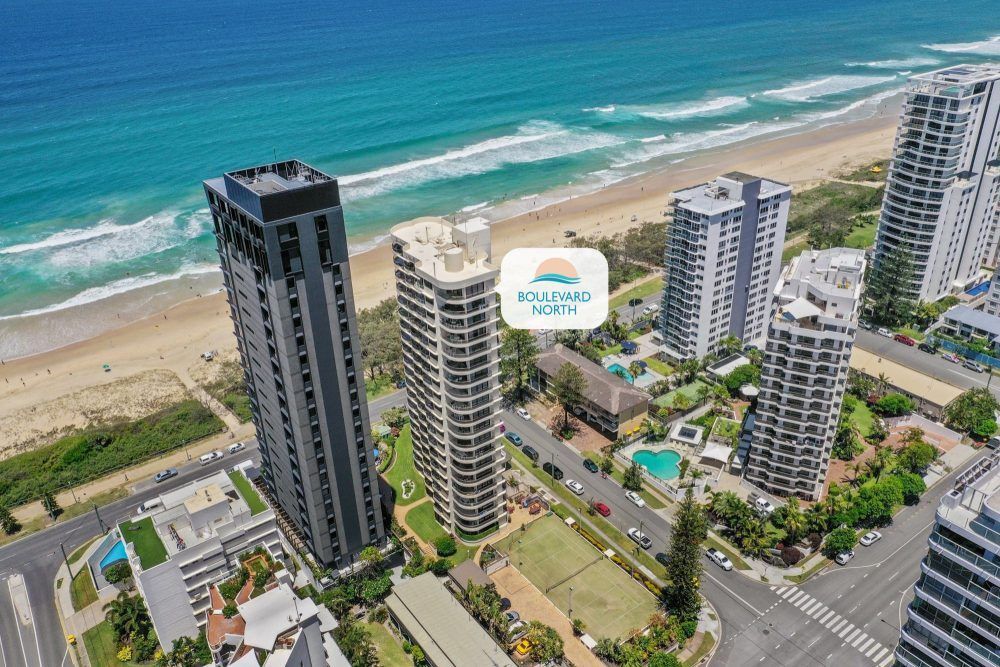 "Amazing!"
"Great location, clean and spacious room with an amazing view!. Great location (walking distance to beach, shops and restaurants), apartment was very clean and spacious and had everything that you need when traveling!"
Bianca Australia May 2021
"Incredible view worth upgrading to the ocean view room. Very helpful staff one phone call and they made sure our apartments were on the same floor. (Two separate bookings were made) heated swimming pool was great. Short walk to nice Cafe bottle shop and spar."
Erin Keong, Australia May 2021
"Good location close to the beach, shops and restaurants. Spacious unit with lovely views of the hinterland and ocean. The manager was very friendly."
Louise, Australia July 2021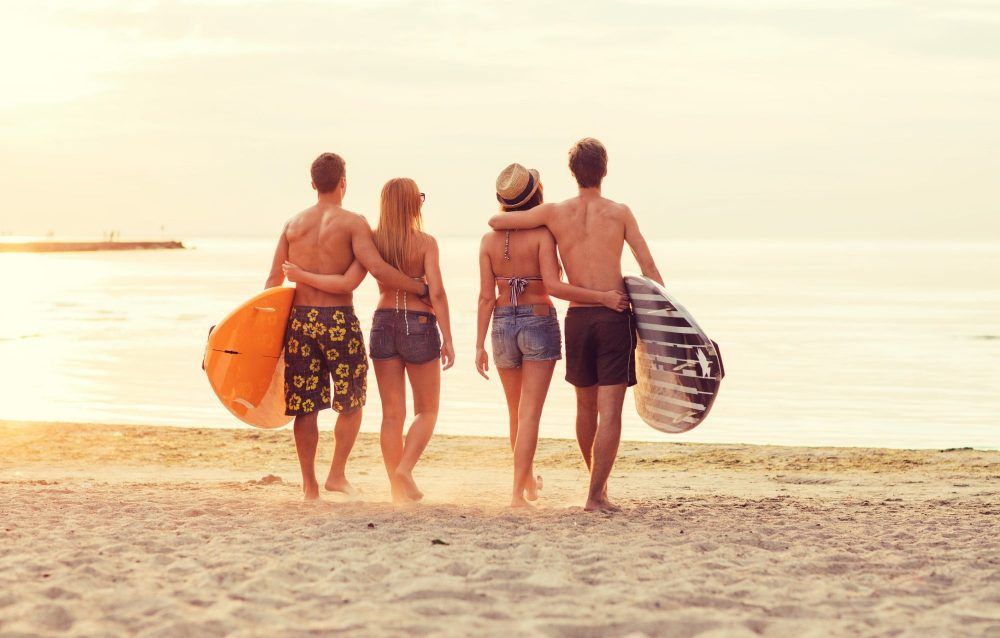 "Broadbeach Family Getaway"
"We had a fantastic time and the apartment suited our family getaway. The ocean views from the huge balcony were beautiful from our 5th floor accomodation. Two bedrooms & bathrooms were perfect for 2 couples & a baby. Facilities were very comfortable with the leather lounge suite for relaxing & excellent kitchen utensils & appliances, the beds reasonable – clean linen & bath towels provided. The unit did not have air conditioning but opening the sliding doors in the lounge area created good ventilation in this area. It was a bit stuffy in the bedrooms with no fans provided. A suggestion would be to provide at least some pedestal fans to create air movement if no ceilings fans are fitted for the warm Gold Coast climate in the 2 bedrooms.
The location is excellent – straight across the road & you're on the beach! A 5 minute walk to restaurants & shops and one block away from the Broadbeach Bowling Club which is very convenient if you're a bowler. The swimming pool area is small but very clean and well maintained. Great for a dip if you don't want to go to the beach.
There is one parking space allocated under the building for each apartment so if you have 2 cars it can be a problem finding the second park in the street.
Overall we had an awesome time here & would not hesitate to return for another holiday!"
"2 Days Away for New Year"
"Great views we stayed New Year's Eve and we got a fantastic surprise, our apartment had unbroken views up the coast so we saw unbroken views of the fireworks! The one bedroom apartment was very clean and quite modern we were about 5-10 minute walk to Oasis shopping centre and right across the road from a patrolled beach. The pool is heated, spa clean, BBQ area large and clean and a tennis court. Under ground parking was easy to access – we will come again!"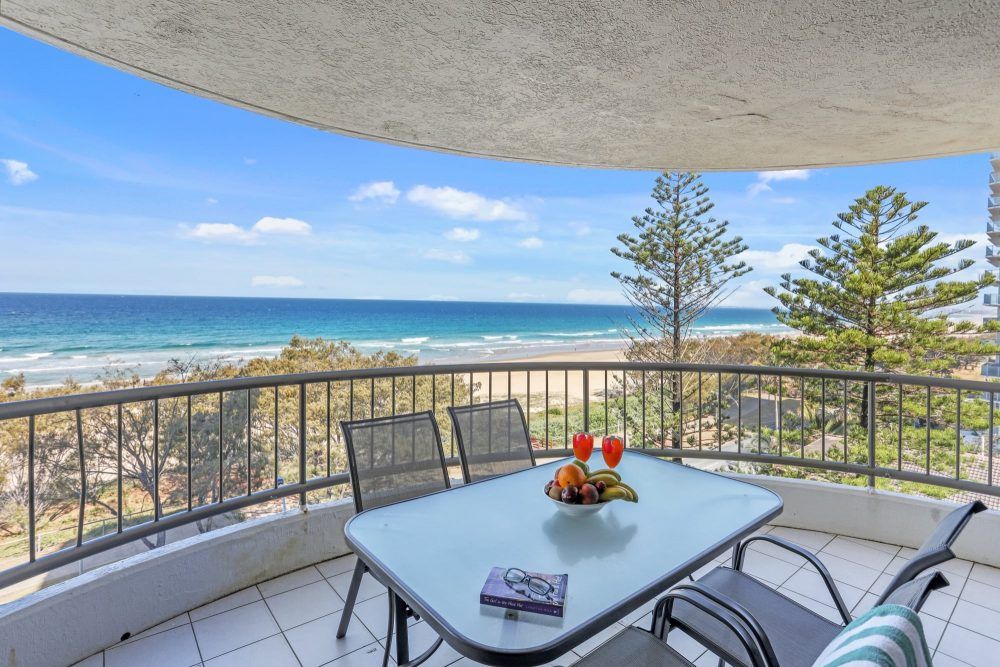 "Simply Amazing Hotel!"
"The room was fantastic with an absolutely breathtaking ocean view. The staff at the counter were so warm and friendly plus really helpful when we needed assistance.
Staying in Gold Coast for a week was truly wonderful and staying at the North Boulevard hotel at Broadbeach just made our stay in Gold Coast so much more comfortable. I would highly recommend this hotel to anyone intending to stay in Gold Coast."